This is a story of love, lust and FAITH. Oh, and of dirty sex of course!


It's a far cry from Plautus' HOMO HOMINI LUPIS (man is a wolf to his fellow man). Instead it is a tale about Detective Robert Goren, who decides to take a well deserved break from the usual array of DEAD victims - a MURDERer AMONG US, MAD HOPS and FALSE-HEARTED JUDGES. Although he has always seemed SEMI-DETACHED, our beloved Detective has been MIS-LABELD as THE PILGRIM the lone wolf. Only THE UNBLINKING EYE can see that he is a man with special needs and his EX STASIS is about to change.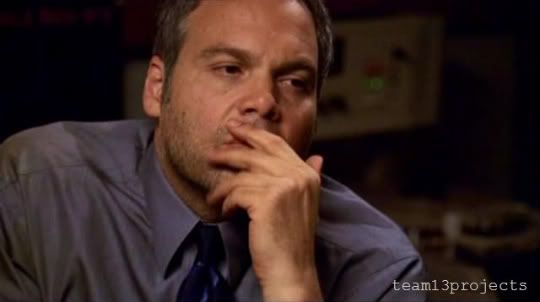 "Be a GOOD CHILD", Detective Robert Goren begged her, "and SEE ME at the Hotel GRAANSHA".
The woman was ONE of a LEGION of D'onofrioholics who COLLECTIVEly call themselves Vixens. She packed her BAGGAGE, and IN THE WEE SMALL HOURS a BRIGHT BOY took her to the Hotel at TUXEDO HILL. THE VIEW FROM UP THERE was impressive! It was one of those starry nights, GEMINI was shining above her in the sky and GRAANSHA looked quite exclusive. "VACANCY" the neon sign said in illuminated letters -- inviting just like a SIREN CALL.
"What a SHANDEH (yiddish for Shame) it would be not to register as a guest" she said to herself. The receptionist asked her for the SIBBOLETH (Sibboleth = synonym for password).
"FICO DI CAPO" the woman answered correctly as she checked in as Miss JONES* *not her real name, enjoying the MASQUERADE about this secret date.
"You're like sweet POISON", Detective Goren whispered, once she entered the SUITE SORROW. He reminded her of the Greek God EOSPHOROS the dawn bearer, in his BTOH, and she knew, there was NO EXIT, and she had the feeling that this date would be like a CRUISE TO NOWHERE, but no, she didn't care. Hell, she wouldn't mind if she was his PRISONER for eternity! The woman looked around. The room was designed in the CHINOISERIE aesthetic, yet nonetheless modern. Somehow the big brass bed with stylish SILVER LINING made her fantasies run wild, so the FRAMEd photo of Elton on the wall above the bed.
Goren offered her a SELF-MADE CUBA LIBRE, and put on a sexy SMILE as he moved closer. "Have you ever been here before?" he wanted to know.
"No", she shook her head. "But to be honest, YESTERDAY Frank asked me to spend the night with him in a SEX CLUB."
"I apologize for his ILL-BRED behavior. Frank is a MALIGNANT freak who STRAYs around. No one is pleased about his WRONGFUL LIFE. But PLEASE NOTE, Darling, I'm not my BROTHER'S KEEPER".
The woman made a dismissive hand gesture, "HAPPY FAMILY .... never believed in. Rather like THE WAR AT HOME".
"Aah, we are not here to chit chat about FAMILY VALUES". Goren's smirky grin excluded all possibility of doubts. And then .... "I'm CRAZY for you", he confessed all of a sudden.
Her heart was GONE in an instant and she was CONSUMED with desire. "I wasn't quite sure if you were a LADY'S MAN".
Goren left her remark unanswered, but he asked her for a PAS DE DEUX. She wasn't PLAYING DEATH at all when he held her close and swayed with her to the rhythm of ALBATROSS from Fleetwood Mac. Aaahhh that smell, that aphrodisiacal smell of his ... she wanted to get SMOTHERED by his smell! Her heated BODY reSOUNDED in excitement and she could tell by his GROWN MONSTER that her PROUD FLESH had already set him ON FIRE.
"Need it so badly", he murmured demanding and sweetly at once."Let's SLITHER onto bed; let me put it ALL IN". So the Detective put his BADGE and cuffs on the bed.
Hell, he wasn't wasting much time, and she looked for the BEST DEFENSE to slow him down a bit. "Who do you think you are, eh? ROCKET MAN?", she laughed nervous. "I'm not a SAINT, I don't have any bad CONSCIENCE being here with you either, but don't put me in a STRESS POSITION by rushing me."
"TOMORROW is time enough for ACTS OF CONTRITION -- but tonight ...!" He sounded resolute, and then he turned out the lights.
IN THE DARK he pressed his body against hers and she could feel his throbbing BEAST.
"I WANT you to serve me, I want you to do ART with your CHERRY RED lips all over my FPS (Fertile Pulsating Shaft). Please", he added, "I'd take it as a special GIFT.
"Wow, wow, hold on! You need to earn that PRIVILEGE first", she said and BLINKED quite SEMI-PROFESSIONAL at him.
"So you are going to let me be UNREQUITED? What PURGATORY! Teenage-like make-out games are nothing but COLD COMFORT. I like it wild and dirty, you know!"
"I'm having a serious IDENTITY CRISIS, so stop acting like an ALPHA DOG".
Suddenly, as if he was a PHANTOM, he stood behind her. A second later she felt his hot breath near her neck, and his fingers SLITHERING under her skirt. The woman was SCARED CRAZY that this was just a dream.
"Honey, you better give up and move that GREAT BARRIER! Or, believe me, I'm going to have a SEIZURE. You will be FAITHFULLY mine. Right now!"
"That's quite an ANTI-THESES", she replied and gasped aloud as he pushed her without any warning onto the bed.
"We could ask for an EXTRA MAN to join us, if that would turn you on".
The woman, now laying under her BEDFELLOW, could see that he felt UNTETHERED when she assured: "Oh no, I could never BETRAY you! My LOYALTY is yours."
With one hand Goren opened a SHRINK-WRAPPED rubber while his other hand run up her skirt. "So let's get it on, Babe. You are THE PERSON OF INTEREST and - uh - I'm playing THE GOOD DOCTOR, if you know what I mean".
He cuffed her and the PROBABILITY of getting wet by his roughness was MAGNIFICANT. However she hesitated for a second. "May be I'm sounding like someone who suffers from FOLIE A DEUX, but are you sure we should open the PARDONER'S TALE? If a MALEDICTUS press photographer from the PRAVDA, catches us doing what we're doing, could ruin MY GOOD NAME and your career!"
"Relax! There's no ENEMY WITHIN this house. No one would dare disturb us here. These INERT DWARFs called photographers would end up on DEATH ROE if they did!"
His UNDAUNTED METTLE attitude made her body GROW hot and the blood seemed to boil within.
"And now tell me", he asked with seducing voice, "how will you make AMENDS for trying to delay the inevitable?"
A moment later Goren immersed into the moist DEPTHS of her body. What happened next was animalistic (never ZOONOTIC), BUT NOT meant to be FORGOTTEN. Before the night ended, he became her INSIDER and it was all pleasure.
The morning after Detective Robert Goren was GONE like a VANISHING ACT. But she knew last night was not the ENDGAME. The woman who called herself Miss JONES turned around and saw that he left a LEGACY on the sheets, a BLIND (wet) SPOT that is. And .... she SMILEd.
This story was written D.A.W. (short for "Dispense As Written") by jazzy just for the Vixens.