Playing Dead, Airdate 04/19/09 Ep 08X01

guest post from
Susan Barnett
1.
First and foremost, and of course most obvious, it was just so good to have Bobby and Alex together again. It has been so unbelievably long and torturous waiting for so many months to see them on the same screen. Even now, I admit that I still hold a grudge against USA for the long wait. It was great to see that their chemistry together is still as dynamic as ever. I love watching Vincent and Kate play off of each other, especially those little looks of "checking" with each other when the other characters are talking. Every time they make eye contact with each other, I get a little thrill. Probably because I want to be the one making eye contact (and some other types of contact) with Vincent. Sadly, I have to live vicariously through Kate Erbe on Sunday nights.
The two of them are so good together that Vincent and Kate could pick out linoleium samples at a flooring store and I would stand and watch... riveted in place by their chemistry.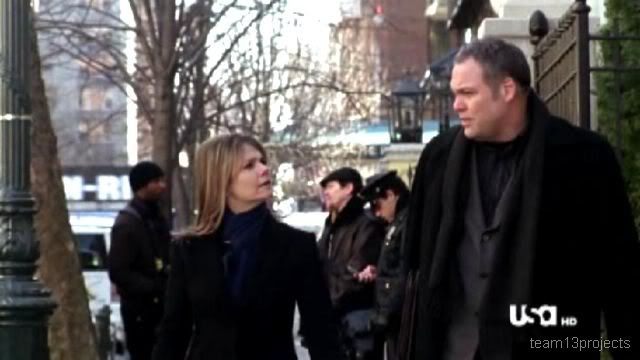 2.
Bobby's back to his clean-shaven self.
Personally, I prefer less-hirsute Vincent. I realize this is just a personal preference, but I can't help thinking how scratchy that beard from last season would be when Vincent and I are making out. Don't get me wrong, I'm willing to make the sacrifice, of course. I am not one of those vapid, shallow tv.com posters who whine about the facial hair or the weight. I'm willing to not only overlook the beard, but I'm willing to be on top. I'm flexible (so to speak).
However, It was still very thoughtful of him to shave just for me this season. Just goes to show you what a sensitive, gracious, kind lover he truly is. But then, we all already knew that, right?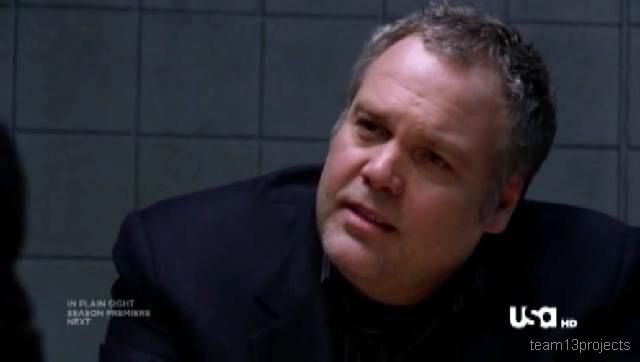 3.
I also loved that we got to see Vincent's wounded puppy-dog look.
The scenes in the hospital with the abuse victim are Bobby Goren at his empathetic, "
I-know-what-you're going- through-and-I- share- your- pain
" best. When he speaks about his "bad childhood" I want to reach through the screen and scoop him up (yes, all 6 feet 4 inches of him) and hug and kiss away all the hurt.
This is a testament to me of what a truly gifted actor Vincent is because my reactions to Bobby Goren are very different from my reactions to Vincent D'Onofrio. I want to hug and kiss Bobby and make him a home-cooked meal and draw him a bath and make him feel better about all the crap his mother and brother and father(s) have put him through. I want to make him smile because he seems so sad. I want to take care of Bobby.
With Vincent, I just want to f*ck until our brains fall out, and even then, I'm gonna keep right on going.

It's interesting to me that Vincent is so convincing as an actor that even my hormones know the difference between Vincent and Bobby.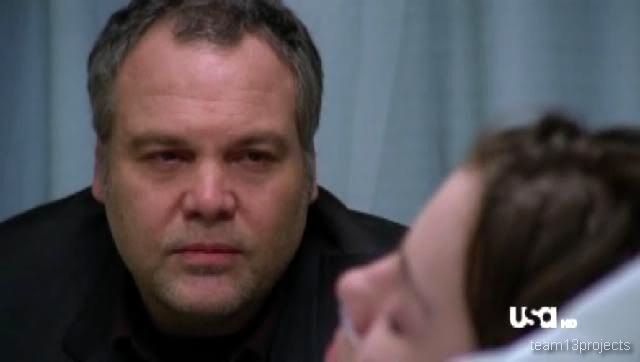 4.
Another selling-point for this ep is Bobby's "french" accent. Any episode where Vincent affects any type of accent, dialect or foreign language makes me hug myself and jump up and down in excitement. When he speaks German or Chinese or even affects a stronger Brooklyn accent (like in "Badge" when he's acting like an ass to the female cop) it does unspeakable things to my body. I'm not sure why. I think it may have something to do with role playing... hmmm...
Because as soon as I heard that little french accent I thought, "I wonder if I still have that french maid costume in the closet?"
5
. I also loved seeing Bobby back in the interrogation room. These scenes are always Vincent at his alpha-male, angry-hot best. At one point, Bobby gives the perp that look that says "
your ass is mine, buddy.
"
I LOVE THAT LOOK!!!
It usually makes the perp quiver. It makes me quiver, too, but not exactly with fear...with something less definable. And probably less post-able.
All in all, it was a good episode.
I found the plot a little predictable, but it still moved along well and I thought Kathy Baker was excellent.
But I have to admit that I'm a little sad in having one episode "in the bag" already.
That means only seven more of Vincent's eps to go.
*sniffle...sniffle...cry*

-
Susan Barnett
-