(Some of the following screen caps from "The Cell - Director's Cut" may not be suitable for all people.)
Creepily D'Elicious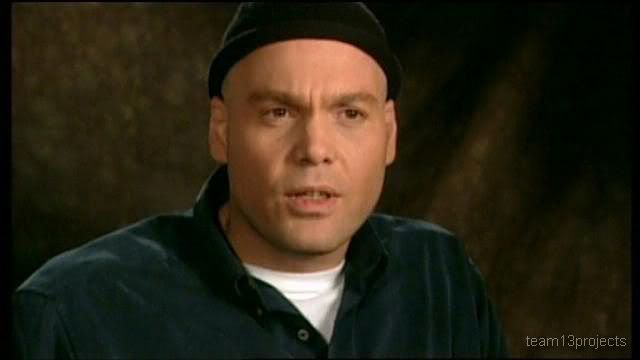 You might already know the 'salon interview', but I think it's worth reading again, because it was incredible powerful how Vince immersed himself in the role as Carl. He made Carl so
REAL
!
to read the interview with vince in its entirety, click here
(Vince on the set with Director Tarsem Singh)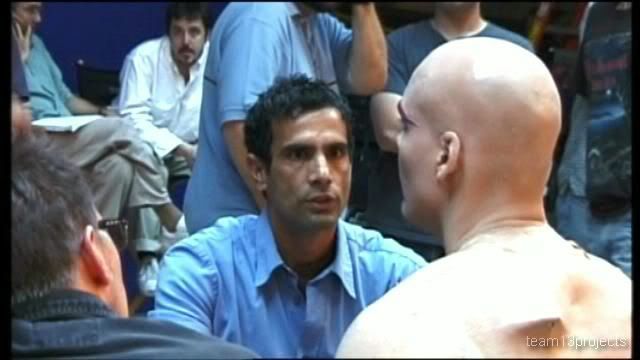 What kind of research did you do to prepare for the role of Stargher?
"I don't want to get into it too much because some of it's too harsh.
But, you know, there's so much access to things these days because of the Internet."
"I had books and encyclopedias on it, letters from the insane dating back to the 1700s, books of art made by the insane. My room at the Chateau Marmont was full of this creepy stuff I was reading and studying - pictures and photos and things."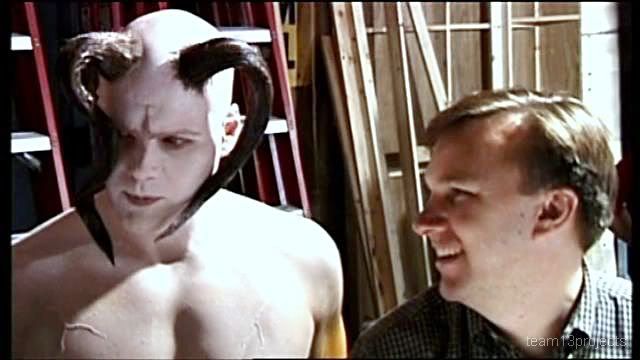 There's an intense scene in the film where Stargher's suspended over a dead, naked woman by steel rings that are pierced into his skin. Can you describe the filming of that? "It was uncomfortable. A body double shared half the pain with me for all the wide shots. I had to do all the closer stuff. You're harnessed up, and prosthetic skin is glued to your skin. You're hoisted up by cables hooked to a harness beneath this fake skin."

(Vincent and his Double)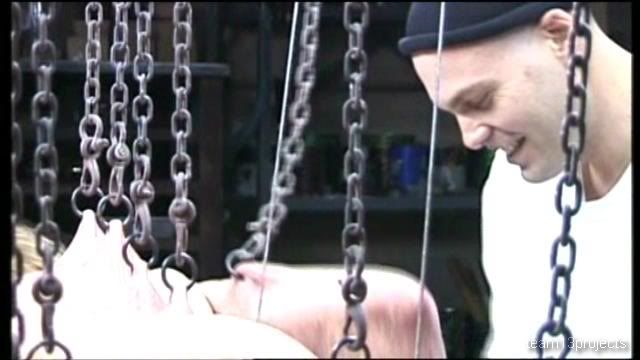 "I mean, it's not digging ditches or anything, but it's not the first thing you want to do in the morning. Actually, in the photos of people who do that, their skin stretched a lot farther than we stretched it. They wouldn't allow us to stretch the skin any farther."

(Vincent's Double)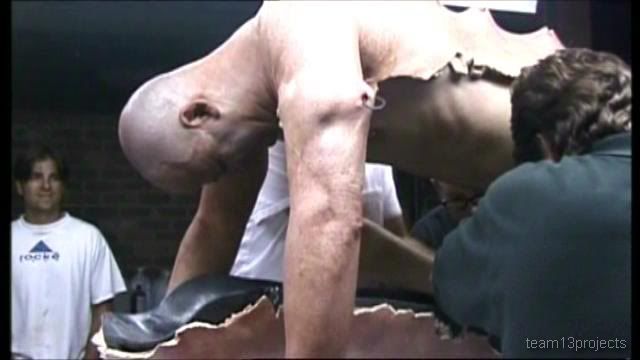 Was that scene cut?
"Yeah, they cut it down so it's really just hinted that he's masturbating, rather than showing it."
"Not that we show any frontal nudity or anything. But I went through the act where my arm comes around, goes over my penis, working into the orgasm -- all that was in the original scene. And then the orgasm itself, they wouldn't allow it. So Tarsem had to snip, snip, snip and just kind of hint at it."

One of the great moments in the film is when Stargher and Lopez's character, Catherine Deane, have a conversation while your hands are playing in the bloody water of a bathtub containing a nude, female corpse. Can you describe what was going on between you and Lopez in that scene?

"All the times that Jennifer and I were together, it was very quiet, particularly in that scene."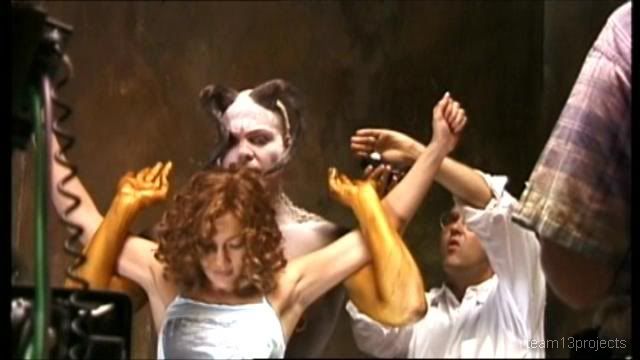 "Her approach to it was very silent and my approach to it was very silent. Nobody knew what I was going to say. They certainly knew by then that I wasn't going to stick to the script. Jennifer and I never spoke about any of the scenes we were going to do on purpose. It got to the point where if anybody had interrupted what we were doing, the whole mood would have crashed down like glass. It was that fragile -- quite an intense day."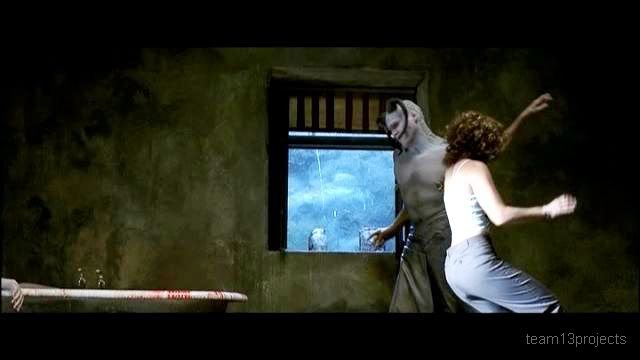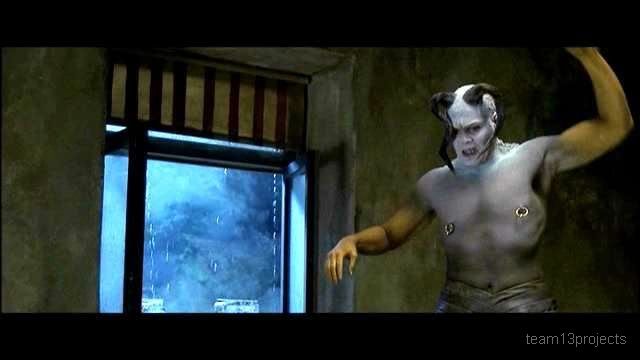 "The girl who was in the tub, she had to lie there -- not very nice. I didn't know her name -- some model chick. She certainly wasn't going to talk to me. And I wasn't going to talk to her. It was that mood on the set. The cool thing about doing a film like that, unlike the "Steal This Movie" part, is you don't have to be social at all. I prefer that. That's more my personality. I can carry that feeling around with me when I'm doing a part like that where I don't want anyone to know what I'm going to do. That is, if the director allows that."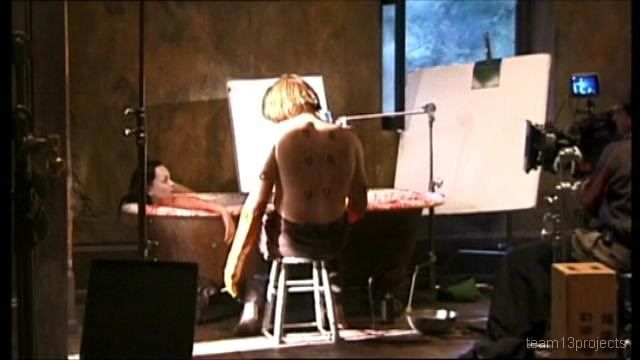 "So I riffed on the idea of what was there and did many different versions of it. Then when the camera was on Jennifer, I did something completely different to bring some tears up in her."

(click on to enlarge XXL)
"Something I won't discuss with you. I said things that I knew would move her.
But that's not uncommon; actors do that all the time."
How do you know what to say to get that kind of reaction?
"We're actors. We know that shit. If we don't know anything, we know that."
You've done disturbing roles before -- was Stargher the most disturbing?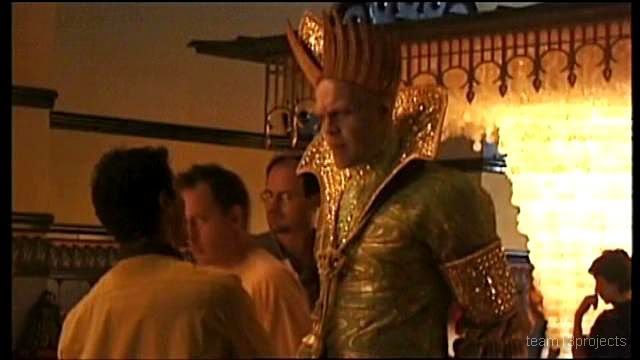 "As far as a fictional character's morals, he would probably be the least moral person
I've ever played."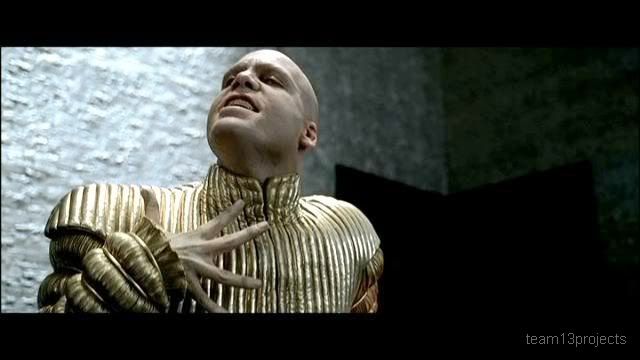 Me got boy! Boy me got!
- Carl Stargher -